Watch out Rory McElroy!
Watch out Rory McElroy!
10 December 2019 (by admin)
e were treated to a golfing exhibition today in Kingsisland. Master O'Neill was left dumbfounded, as P4 pupil Shea, drove his ball 100 yards further than Master O'Neills!!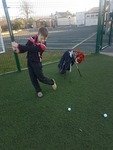 Shea will be playing In the Irish ☘️ schools cup under Kingsisland team. He is currently playing in the Irish ☘️ juinor league And has got off to a great start as he also won the Dungannon winter juinor league at the weekend which was played over 10 rounds. With a swing better than Tiger Woods, the future is looking very bright for this young man.