School Crest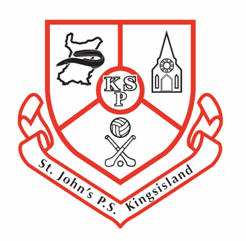 The badge of St John's depicts three important images, very relevant to the life of our school
and community.
In the top left corner the image of an Eel and Lough Neagh demonstrate the importance of the
Lough to the generations of people in our local community.
The image of St Columcille's Church can be seen in the top right corner of our school crest.
The church is located within the school grounds and is seen as an extension of the school
itself. Our church is a place of deep faith in which many generations of our pupils have
recieved their early Cathloic teachings.
The final image on our badge is that of a Gaelic football, the Hurling/Camogie sticks and the
sliothair. We have a strong tradition in all things sporting in St John's. Our boys and girls are
proud of their strong and distinguished sporting and cultural background.