'Dig It & Eat It'
'Dig It & Eat It'
24 September 2019 (by admin)
Our big 'Dig it and Eat it ' project came to a conclusion after 6 months of hard work. Way back in April the pupils planted many different types of seeds. They carefully looked after the vegetables as they began to grow,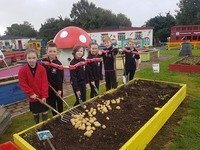 constantly weeding, feeding and tending to their crops. Our last vegetables (potatoes, carrots, onions and parsnips) were dug up earlier this week, cleaned, peeled and cooked in our school kitchen and most importantly Eaten by our hungry pupils at dinner time today.
This is the best example of real life long learning in its purest form and everyone had a brilliant fun time doing it.
Thank you to all of our hard working staff and pupils for making this project possible.