NEW HALL UPDATE!
NEW HALL UPDATE!
26 June 2017 (by admin)
Our new hall is progressing nicely. The bricklayers have built both external and internal walls.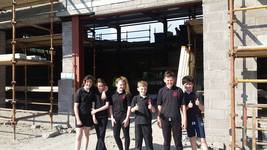 The plasterers have arrived and are working hard putting on the scratch coat. The primary 7 pupils were well impressed when they paid a quick visit last week to see the construction of the new hall progressing.