GAA CHALLENGE MATCH
GAA CHALLENGE MATCH
13 April 2022 (by admin)
P6&7 made the short journey over the Moy bridge this morning to play a challenge match with our good friends from St Peter's Primary Collegeland.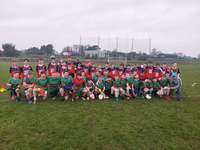 Both the Girl's game and the boy's game turned out to be two very entertaining and exciting games. The all-round level of GAA skills on show were very impressive. Needless to say the children quite literally, had a ball!
Many thanks to Mr McAlinden and his staff for their hospitality and all credit to the Collegeland GFC volunteers for preparing the pitches and refereeing.
https://www.facebook.com/stjohnspskingsisland/photos/pcb.2480424798754513/2480420235421636/